You have probably read in the news that nearly 95% of London's population live in areas that exceed the damaging particle limit by at least 50%.
We have launched a daily timeline message to tell you what the air quality conditions are in your home area (this is based on your postcode and using data taken from local air quality testing).
This initiative is aimed at the residents and workers of Sutton, who can earn rewards for helping improve the air quality within the borough and make informed choices about their travel plans.
The messages will link to features for at-risk individuals* and health messages for the general population.
Nilda has been a BetterPoints app user since March 2018. She contacted us to say how using the app has helped her to be more active and help improve the air quality in her Borough. Here is what she said about her BetterPoints journey:
'I've always enjoyed cycling to work but when I joined BetterPoints I was far less active than I am now. By earning the BetterPoints rewards it has given me a real push to walk and cycle to work more.

Being active on a daily basis has really helped my mental well-being and I'm noticeably more relaxed. Also, with some lifestyle changes I've noticed my general health has improved and in the last 2 months I've lost 2.5 kilos just by making a few changes to my diet and the way I travel as well as through upping my physical activity.

Being part of a community goal to reduce air pollution motivates me a lot too and it's important to understand that we all play a part with every journey we take. Before I joined I wasn't all that active, but I find myself cycling around Greenwich park regularly and now I'm active every day. I even compare points with my work colleague and I am saving my BetterPoints for an Amazon voucher to buy a new book.' - Nilda from London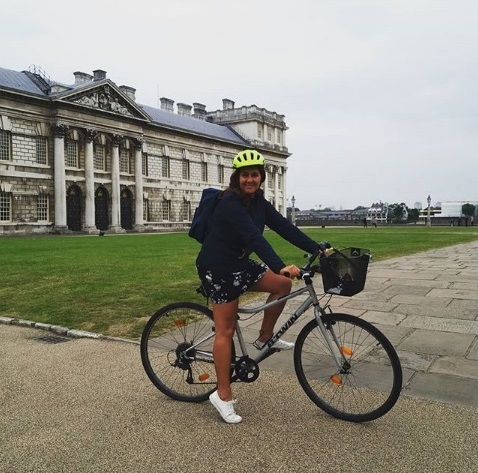 Photo courtesy of Nilda.
We hope that these air quality messages will help you to make informed choices about how you travel in Sutton each day.
Thank you for helping towards improving the air quality in Sutton by choosing active and sustainable travel.
Watch your BetterPoints app timeline for more updates!
*Adults and children with heart or lung problems are at greater risk of symptoms. Follow your doctor's usual advice about exercising and managing your condition. It is possible that very sensitive individuals may experience health effects even on low air pollution days.